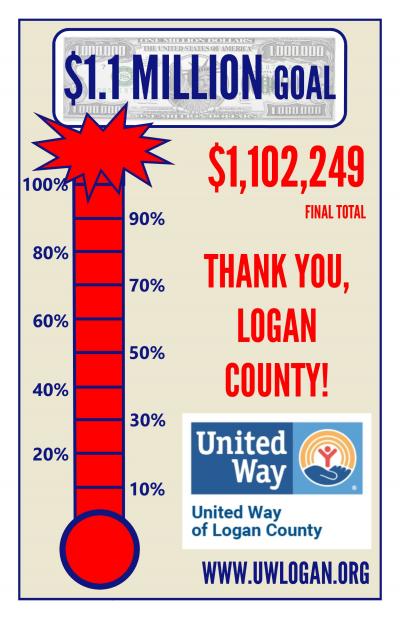 You did it again, Logan County!  198 businesses and 2,597 individual donors combined to pledge $1,102,249 during our 2022 Campaign, making it the ninth straight year you've helped us achieve our campaign goal.  The total is a new record and a three percent increase over last year.  Logan County remains the smallest community in Ohio to ever have a $1 million campaign for its local United Way, and it's now happened five years in a row.   
46 local businesses were recognized for their individual and collective philanthropic achievement during our LIVE UNITED Awards Breakfast this week at Green Hills Community in West Liberty.  
United Way's three Traveling Trophies stay with their respective winners from a year ago.  Marker, Inc. and PCPI Plastics retain the Large and Small Businesss Awards respectively.  The Traveling Trophies, United Way's most prestigious recognition of corporate philanthropic achievement, are awarded to Logan County workplaces with the highest giving per capita. 
Marker, Inc. in Bellefontaine has claimed the award for fourth consecutive year in the Large Business Division with a $586 per capita gift.  Their staff of 150 raised a whopping $87,929 when combined with a 100% corporate match.  
"We love our community, we love Logan County, and we want to give back as much as we can," said Alison Marker, President and CEO of Marker, Inc.  "We have 140 associates who have really big hearts.  United Way for us is a "one-stop shop" for a way for us to all come together and give to community."
PCPI Plastics in DeGraff raised a workplace record $42,359 with just 25 staff, a corporate gift exceeding a 100 percent match of employee giving, and a county-best $1,411 per capita gift. 
"We do it by just getting the word out to our employees and showing them the need when we do a campaign," said Dawn Beelman, President of PCPI Plastics.  "They always humble me because they come back with way more contributions than we expect.  United Way is the best way to give your money to pepple who need it gecause they can vet the agencies and have a long history with the agencies.  It's a great way for a little company in the middle of nowhere to get involved in the community and give back."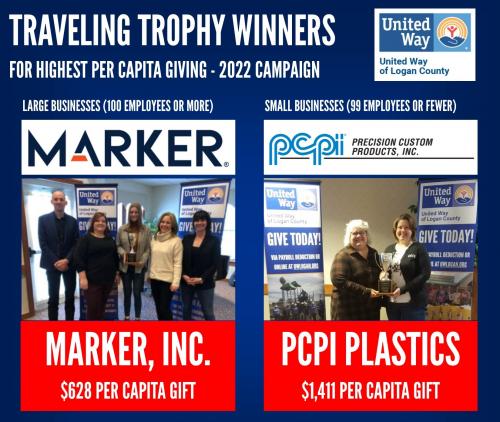 NX Automotive Logistics in East Liberty is the overall top-giving workplace for the fifth year in a row, also checking in with a record-level combined associate and corporate gift of $209,106.  They have 95 percent participation among their associates, who receive a extra pair of paid holidays if they contribute $5/week.  NXAL has now raised over $1 million for Logan County since 2017.  
  
"We have three pillars at NXAL:  the customer, the associate, and the community," said Rick Powers, Division Manager at NXAL.  "We feel like our participation in this campaign for the county is a great way to tie those last two pillars together.  Giving back to the community, this is a great way for our company to exhibit that.  It's something our associates look forward to each year."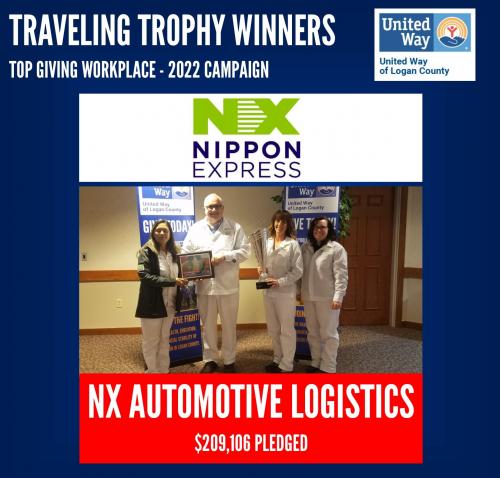 Money raised is supporting 48 programs of 27 Funded Agencies that serve the health, education, and financial stability of Logan County residents.  A complete line-by-line breakdown of allocations is available at this link.
The following workplaces earned Gold Campaign Awards, achieving at least 60 percent employee participation, a $200 or higher average employee gift, or a 100 percent corporate match:  Belletech Corporation; Benjamin Logan Schools; Choice Properties Real Estate; Citizens Federal Savings & Loan; City of Bellefontaine; Civista Bank; Community Health & Wellness Partners; Daido Metal; Indian Lake Schools; Logan County Chamber of Commerce; Logan County Electric Cooperative; Logan County Government Offices; Lutheran Community Services; Marker, Inc.; Mary Rutan Health; NX Automotive Logistics; PCPI Plastics; PowerBuilt; Riverside Local Schools; Robinson Investments; RTC Services; Smith Smith Montgomery & Chamberlain; Steve Austin's Auto Group; TDH Law; V-Teck Communications; and World Class Plastics.
The following workplace earned a Silver Campaign Award, achieving at least 50 percent employee participation or a $150 or higher average employee gift:  Bellefontaine City Schools.
The following workplaces earned Bronze Campaign Awards, achieving at least 40 percent employee participation or a $100 or higher average employee gift:  Green Hills Community, Midwest Regional Education Service Center, and West Liberty-Salem Schools. 
The following workplaces earned Good Neighbor Awards, given to select entities that participate with United Way but do not qualify for a Campaign Award: AGC Automotive; Agiliti; American Honda Motor Company; CenterPoint Energy; CoverLink Insurance; Deep Fiber Consulting; Lewis & Dorothy Tamplin Trust; Middlefield Community Bank; Ohio Hi-Point Career Center; Open Road Renewables; Peak Propane; R.D. Holder Oil; RV Wholesalers; Scott Family McDonald's; Transportation Research Center; and Zimmerman Realty.   
Since 1955, United Way of Logan County has raised more than $28 million to support the specific social service needs of our community.